Thursday, October 06, 2005


Beasts of prey

Beasts of prey

In Guatemala, women are being raped, mutilated and murdered in their thousands. Even little girls have to constantly look over their shoulders. There is little chance of the perpetrators being caught — because often the law is right behind them. Christine Toomey investigates

There is a country where a man can escape a rape charge if he marries his victim — providing she is over the age of 12. In this country, having sex with a minor is only an offence if the girl can prove she is "honest" and did not act provocatively. Here, a battered wife can only prosecute her husband if her injuries are visible for more than 10 days. Here too it is accepted in some communities that fathers "introduce" their daughters to sex.

The whole article can be found here: http://www.timesonline.co.uk/article/0,,2099-1740992_1,00.html

And a link to register your protest about this and other cases of violence against women worldwide, is here:postcard
and here: http://www.amnesty.org.uk/

Also:

Seeking Asylum is not a crime

Amnesty International is campaigning against the arbitrary detention of people who have sought asylum.
The link to this is here: http://www.amnesty.org.uk/asylum/takeaction.shtml


posted by summersun70 at 6:46 PM

1 Comments:
I use to live on the Mexican border in Texas. One of the nurses I worked with had a daughter and son-in-law in Guatamela. They were working for the goverment.

They had to travel everywhere in an armoured car. I remember thinking if it's that bad I'd leave.

Thanks for the informative post.
11:27 AM
About Me
Name:
summersun70
Location:
United Kingdom
View My Profile
Previous Posts
Cynical?
Bush considers using military against avian flu ou...
No surprises...........
Brigitte Bardot??????????
Why Help Never Arrived
Alhama-de-Granada_Gorge_and_mill_house
Societes worse off with 'God on their side'
And now a post more in keeping with this blog!
Something to consider..........
Justice............
Archives
September 2005
October 2005
November 2005
December 2005
January 2006
February 2006
March 2006
April 2006
May 2006
June 2006
October 2006
Links to Other Sites
Blogger


Subscribe via Email



Powered by Yutter


Join the Blue Ribbon Online Free Speech Campaign!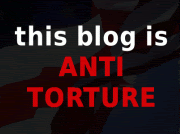 Join Us!
Join Us!


BlinkBits
BlinkList
Blogmarks
del.icio.us
Digg it
feedmelinks
Furl
Linkroll
ma.gnolia
Netvouz
Onlywire
RawSugar
reddit
Shadows
Simpy
Spurl
Yahoo MyWeb