Friday, November 11, 2005


Blair Used Police For Politics - suggestion

Blair 'Used Police For Politics'
Sky News
From: yahoonews

The Prime Minister could face a Commons inquiry into claims of Government "politicisation" of police chiefs over new anti-terror laws. Tories are unhappy that chief constables lobbied and wrote to their MPs, urging them to support powers to hold terror suspects for up to 90 days without charge. Despite endorsement from the police, the proposal was rejected by MPs in Tony Blair's first Commons defeat on Wednesday.

Senior members of the Conservative Party have tabled a Parliamentary motion condemning ministers for "embroiling" the police in politics.
They are suggesting there may have been a link between the police support for the Government and worries over job cuts in forces across the country.
Peter Lilley, one of those behind the motion, said: "Every chief constable knows their job is up for re-selection in the next year or so. That puts great pressure on them."
Shadow Home Secretary David Davis added his voice to those expressing concern, saying: "I think the position of the chief constables looks a little political."
The Home Affairs Select Committee is to investigate chief constables' arguments for extending detention without trial.

My Comments:

Far be it from me to agree with the Tories, especially someone like Peter Lilley, but they do have a point here.

And the fact that not only MPs, but people on the street realise this should have stayed Blair's hand over this. But, of course, it didn't, as the man thinks he is infallible.
The police are supposed to be servants of the state, not state legislators, but it was the latter position that Blair's statements such as "this is what the police told me they wanted" put them in.

On today's' News, police chief constables are coming out of the woodwork to deny that they had ever asked for a 90-day detention period. It could be that this is a hurried bit of back-tracking; after all, the police do seem to be doing a lot of that lately. But it could be true, at least, when you consider that Blair never said exactly which chief constables he had spoken to on this matter. Maybe he spoke to the odd one or two in obscure regions of the country and then used their words as representing chief constables on-masse. Wouldn't surprise me in the least.
Either way, an enquiry into the alleged "politicisation" of police chiefs" would be very interesting. That is, of course, if it ever makes it past the suggestion phrase.

Again, I won't hold my breath.
posted by summersun70 at 3:53 AM

0 Comments:
About Me
Name:
summersun70
Location:
United Kingdom
View My Profile
Previous Posts
It's not going to be easy ....
At Last!
Photobucket
As Sick as a Parrot?
Paranoid. Moi?
Save Roe Campaign
What Bush really meant ...........
Doing the maths .........
American Girl and Women's Rights
Care and share alike
Archives
September 2005
October 2005
November 2005
December 2005
January 2006
February 2006
March 2006
April 2006
May 2006
June 2006
October 2006
Links to Other Sites
Blogger


Subscribe via Email



Powered by Yutter


Join the Blue Ribbon Online Free Speech Campaign!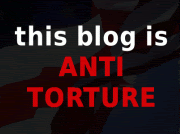 Join Us!
Join Us!


BlinkBits
BlinkList
Blogmarks
del.icio.us
Digg it
feedmelinks
Furl
Linkroll
ma.gnolia
Netvouz
Onlywire
RawSugar
reddit
Shadows
Simpy
Spurl
Yahoo MyWeb