Thursday, November 10, 2005


It's not going to be easy ....

Blair heads for clashes on reforms

10/11/2005 3:38:55 PM
( Source: Reuters)

from: msnnewsbox

By Katherine Baldwin

LONDON (Reuters) - Tony Blair set himself up on Thursday for high-risk clashes with his party, refusing to compromise on future reforms despite a first parliamentary defeat that raised doubts about his ability to govern.

Forty-nine Labour MPs rebelled on Wednesday against government plans to let police hold terrorist suspects for up to 90 days without charge.

Commentators said the shock vote marked a turning point for a once-invincible leader who has seen his authority wane since the 2003 Iraq war, despite winning a third term in May.

Further defeats would increase calls for him to go. Blair has already said he will not stand for a fourth term although he intends to serve for a few more years yet.

Despite that, Blair said there would be no watering down of plans to reform schools, hospitals and the incapacity benefits system before crucial votes in the New Year.

"The Cabinet was absolutely united in their view that they are determined to carry through their (election) manifesto commitments," Blair's spokesman said after a government meeting.

Ministers would "explain" to parliament and the public the rationale behind the plans but would not compromise, he added.

Such tough talk risks enraging Labour MPs who are uneasy at best about Blair's flagship public service reforms.

But defeat may force the government to change its style.

Earlier, Home Secretary Charles Clarke said doubts about future reforms needed to be "properly addressed".

LAME DUCK LEADER?

Blair had sought new police powers after Islamist suicide bombers killed 52 people in London on July 7.

Police said they needed more time to hold suspects to allow them to collect evidence in complicated terrorism cases.

Civil rights groups argued the change from the current 14 days would erode long-held freedoms and drive people towards extremist groups.

Parliament rejected the plan by a net 31 votes, despite Labour's majority of 66.

The defeat was a climax to a tough run for Blair.

The resignation last week of Work and Pensions Secretary David Blunkett after breaking a ministerial code stripped him of one of his staunchest allies.

That followed open rows in government on education policy and a ban on smoking, previously unthinkable for a leader renowned for his tight grip on ministers.

Outside parliament, Blair could come under fire if Labour does badly in local elections next May.

Internationally, Blair also faces testing times.

As current European Union president, he must try and secure an EU budget deal by year-end without wounding himself politically at home by giving in to demands from EU leaders to relinquish part of Britain's rebate from Brussels' coffers.

And his hopes for a plan to alleviate poverty in Africa could be sunk if ministers fail to agree a deal at trade talks in Hong Kong in December.

(Additional reporting by Peter Griffiths)

Comments:

Is this the beginning of the end for Blair?

It seems that his defeat in the Commons yesterday has not weakened his determination to railroad through his dubious policies. Neither has it led him to question his disdainful approach to MPs and the general public – hence the patronising statement that: "Ministers would "explain" to parliament and the public the rationale behind the plans but would not compromise".

Seems like a few more parliamentary defeats are in order.

Let's hope they happen. Sooner, rather than later.

posted by summersun70 at 10:45 AM

0 Comments:
About Me
Name:
summersun70
Location:
United Kingdom
View My Profile
Previous Posts
At Last!
Photobucket
As Sick as a Parrot?
Paranoid. Moi?
Save Roe Campaign
What Bush really meant ...........
Doing the maths .........
American Girl and Women's Rights
Care and share alike
Lies allegations and smog
Archives
September 2005
October 2005
November 2005
December 2005
January 2006
February 2006
March 2006
April 2006
May 2006
June 2006
October 2006
Links to Other Sites
Blogger


Subscribe via Email



Powered by Yutter


Join the Blue Ribbon Online Free Speech Campaign!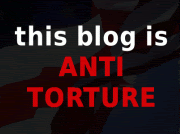 Join Us!
Join Us!


BlinkBits
BlinkList
Blogmarks
del.icio.us
Digg it
feedmelinks
Furl
Linkroll
ma.gnolia
Netvouz
Onlywire
RawSugar
reddit
Shadows
Simpy
Spurl
Yahoo MyWeb