Saturday, December 31, 2005


How will 2006 go for Blair?

Blair says 2006 is year of critical decisions

By Katherine Baldwin
31st December 2005

From: Msn-newsbox-uk

LONDON (Reuters) - Prime Minister Tony Blair, who faces a rebellious party and a revitalised opposition in the New Year, said on Saturday 2006 would bring tough, critical decisions that would shape Britain's future for generations.

In his New Year's message, Blair vowed to press on with controversial reforms to education, pensions and energy policy that could test his authority and define his legacy.

"2006 is a year in which critical decisions have to be got right if we are to sustain prosperity and fast-improving public services for the long-term," he said in a televised address.

"We face big choices which will decide how prepared we are for the challenges of the future," he added, mentioning education, health and energy reforms.

He also said Britain would not let its "resolve slip" in fighting terrorists -- like those who attacked London on July 7 -- and bringing stability to Afghanistan and Iraq.

……………………

OPPOSITION TO REFORMS

Defeat for Blair on key legislation or narrow victory with the help of Conservative votes could damage him.

Blair has said he will serve a full third term but most analysts expect him to stand down within two years. Chancellor Gordon Brown is tipped as his most likely successor.

Scores of Labour lawmakers have already registered opposition to education reforms, to be published early in 2006.

………………..

For the full article see: Msn-newsbox-uk


My Comments:

So, let's sum up:

In the UK, this last year has seen:

The murder of innocent civilians in the London Tube/Bus bombings, either as a direct response to UK involvement in the War on Iraq, or under even more suspicious circumstances. And (coincidentally?) overshadowing the very much 'less than perfect' 'achievements' at the G8 Summit.

The killing of an innocent civilian, Jean Charles de Menezes, during a 'counter terrorism' campaign and Police reactions that demonstrated their true disregard for the rights of civilians.

Increased public surveillance (and more on the way Surveillance-UK-The_Independant and Britain_to_be_first_country_to_monitor_every_car_journey )

An overt attempt to scare the public with the 'threat of Avian Flu'.

And other, regular, 'suggestions' made by the Blair Administration and its cronies in the media that we should be constantly on the alert in this 'climate of terror'.

The deaths of Robin Cook and Mo Mowlam, two of Blair's sharpest critics. Both untimely deaths and, although Mo Molam had suffered from a serious illness for some time, Robin Cook's death was completely unexpected.

But then:

The unprecedented defeat, suffered by Blair this November over proposed new 'Terror Laws' .

And:

David Cameron becoming the New Tory leader, offering the failing Conservative party hope for the future, especially in a time when Blair's popularity is at its lowest. But would Cameron be just a younger version of the older 'pretender'? And, in any case, by the time the next Election comes around, it will most likely be Brown, not Blair, who Cameron has to oppose.

On the News this morning I heard the announcement that teachers may strike in the New Year, over plans to change financial recognition of their administrative duties. Not a great start for Blair's planned 'assault' on the UK State Education System.

But will Blair carry on regardless with his plans to contravene our civil liberties even more in 2006, or will he be stopped in his tracks or even forced to resign as Prime Minister?

And, if he is, will his successor be any less objectionable when he takes office?

We just have to wait and see……. and hope.




posted by summersun70 at 5:47 AM

1 comments







Friday, December 30, 2005


Is enough ever going to be enough?

US probes leak of domestic eavesdropping programme

By Deborah Charles

WASHINGTON (Reuters) - The U.S. Justice Department is investigating who disclosed a secret domestic eavesdropping operation approved by President George W. Bush after the September 11 attacks, officials said on Friday.

"We are opening an investigation into the unauthorised disclosure of classified materials related to the NSA," an official said on condition of anonymity.

Earlier this month, Bush acknowledged the programme and called its disclosure to The New York Times "a shameful act." He said he presumed the Justice Department would investigate who leaked the National Security Agency eavesdropping operation to the newspaper.

……………..

It is the second recent high-level probe into the leak of classified information to the media.

After a two-year investigation into the disclosure of a covert CIA operative's identity, a special prosecutor in October indicted Vice President Dick Cheney's chief of staff, Lewis "Scooter" Libby on perjury and obstructing justice charges.

That investigation is still continuing.

……………….

A 1978 law, the Foreign Intelligence Surveillance Act, makes it illegal to spy on U.S. citizens in the United States without the approval of a special, secret court. Bush secretly gave the NSA authority to intercept communications without such approval.

The White House has sought to play down the impact on civil liberties, saying the programme was narrow in scope and that key congressional leaders were briefed about it.

For all of this article see: msn-newsbox-uk

My Comments:

So the bald-faced fight back by the Bush administration has begun.

Let's just hope this is a desperate measure by a regime that has been well and truly caught out of line.

But with the covertly-engineered hold over a vast number of American citizens that this administration has, all we can do is hope …. and watch while the game plays on……

posted by summersun70 at 11:25 AM

1 comments







Saturday, December 24, 2005


A Christmas Story to warm the Heart

Workers See Jesus Image In Nacho Pan

Pan Used To Heat Nachos

From: ObscureStore

Workers claim a holy image has appeared in one of their cooking pans.

At the Stadium Club in Jacksonville workers have found what they believe is an image of Jesus in a nacho warming tray.

The pan is used to heat water which then heats the food.

The image was created from mineral deposits in the water.

One of the cooks says he went to empty the pan last night and saw Jesus looking back at him.




A spokesman for the Stadium Club says they will not continue to use the pan.


My Comments:

Doesn't that just fill you with Christmas Joy?
posted by summersun70 at 12:26 AM
0 comments





Tuesday, December 20, 2005


Drunken Santas?



Drunken Santas run amok in NZ


From: yahoonewsUK

WELLINGTON (Reuters) - Forty drunken Santas rampaged through central Auckland, stealing from stores and assaulting security guards, the New Zealand Herald reported on Sunday, in a protest against the commercialisation of Christmas.
Police said some of the Santas threw beer bottles, one tried to climb the mooring rope of a cruise ship and a security guard was punched during the fracas.
"They came in, said 'Merry Christmas' and then helped themselves," convenience store staff member
Changa Manakynda told the Herald, which reported the Santas also attacked a Christmas tree.
The event organiser, Alex Dyer, had warned the antics would only stop when someone was arrested, said the Herald, which linked the incident to "Santarchy".
Santarchy (www.santarchy.com) and online encyclopaedia wikipedia (www.wikipedia.org) record protests going back around 10 years in the United States, with participants marking Christmas in anti-commercial manner involving street theatre, pranks and public drunkenness.
Police said identification was a key issue as they tried to sort out which of the 40 men and women had done what.
"With a number of people dressed in the same outfit, it was difficult for any witnesses to confirm the identity of who was doing what," Senior Sergeant Matt Rogers told Reuters.

My Comments:

I was intrigued by this, if only to attempt to check out whether the reporting on these 'drunken santas' was accurate. So I looked at the Santarchy! (Santacon) website.

This was what they had to say about Santacon:

"Every December, for the last 12 years, Cacophonous Santas have been visiting cities around the world and generating a bit of naughty Christmas fun as part of the annual Santacon events. It all started back in 1994 when several dozen Cheap Suit Santas paid a visit to downtown San Francisco for a night of Kringle Kaos. Things have reached Critical Xmas and Santarchy is now a global phenomenon."

They emphasise that:
"We do not condone or encourage any kind of vandalism or violence at a Santacon event. Our santas do not destroy property, steal merchandise or do harm to others."

As regards the NewsRex Reports On Auckland Santarchy, this is what they had to say:
"It turns out that the controversial New Zealand Santarchy event, was organized by the online skateboard magazine Muckmouth in their forums.
This comment was left on our previous NZ blog post by one of that event's organizers:
"Hello from Auckland, New Zealand, the international home of Santarchy!!!
Despite the moodiness on national radio over here, I assume you lot are stoked at the free publicity!
Santarchy in Auckland has been going for 6 years over here, and rather than being clueness idiots, we are hunky and sensible and it was more a case of a few bad eggs poisoning the eggnog…
There was some major misreporting and chinese whispers. Breaking bottles and urinating under a bridge, became throwing rocks at buses and urinating on cars from an overpass.
The 'organisers' as they were, saw little in the way of crime other than one santa attempting to board a foreign vessel by scaling 20 metres along a rope 60 feet in the air. The difficulty and motor skills involved in this task alone should be a defense in itself of being "drunk" and "disorderly".
We expect to be fully vindicated by a documentary screening on Sky One in New Zealand on Christmas Eve.
We would certainly appreciate a little more unity and understanding between Santas and ask not to be judged on the behaviour of a few.
Lots of love,Santa… "


Another case of press over-reaction?
Most probably.
Either way, checking out links to 'Santarchy' provided a welcome change to checking out all the other info we are being fed in this pre-Christmas season.
posted by summersun70 at 5:53 AM
0 comments

Saturday, December 17, 2005
Jose Cuervo Christmas Cookies
Jose Cuervo Christmas Cookies


Ingredients:

cookie stuff
1 cup of water
1 tsp baking soda
1 cup of sugar
1 tsp salt
1 cup or brown sugar
4 large eggs
1 cup nuts
2 cups of dried fruit
1 bottle Jose Cuervo Tequila

Directions:

Sample the Cuervo to check quality.
Take a large bowl,
check the Cuervo again, to be sure it is of the highest quality,
pour one level cup and drink.
Turn on the electric mixer*.
Beat one cup of butter in a large fluffy bowl.
Add one teaspoon of sugar*
Beat again.
At this point it's best to make Sure the Cuervo is still OK,
try another cup..just in case.
Turn off the mixerer thingy.
Break 2 leggs and add to the bowl and chuck in the cup of dried fruit,
Pick the frigging fruit off the floor*.
Mix on the turner.
If the fried druit gets stuck in the beaterers just pry it loose with a drewscriver.
Sample the Cuervo to check for tonsisticity.
Next, sift two cups of salt, or something.
Who giveshz a sheet.
Check the Jose Cuervo.
Now shift the lemon juice and strain your nuts.
Add one table.
Add a spoon of sugar, or somefink.
Whatever you can find.
Greash the oven.
Turn the cake tin 360 degrees and try not to fall over.
Don't forget to beat off the turner.
Finally, throw the bowl through the window,
finish the Cose Juervo and make sure to put the stove in the dishwasher.

Cherry Mistmas
posted by summersun70 at 5:45 AM
0 comments





Thursday, December 15, 2005


Xmas Cards From Famous People




Xmas Cards From Famous People In which Ashlee, Dubya, Tom Cruise and more wish you very happy holidays. Sort of




By Mark Morford, SF Gate Columnist


May the Lord bless you and keep you this wonderful holiday -- unless, of course, you are gay or thinking about becoming gay or unless you have at one time during the past three years considered in any way supporting the "gay lifestyle." You are all in my thoughts always, unless you are a woman or pagan or a liberal or Tom Cruise. By the way, materialism is evil and has robbed Christmas of its true meaning -- which is, of course, guilt and death and sin. Dig my gold-encrusted robes. Oh, and please buy my book. Available on Amazon for only 13 bucks! You save 32 percent! Joy to the world.-- Pope Benedict XVI


See the rest here: SFGate


posted by summersun70 at 4:41 PM

0 comments







Wednesday, December 14, 2005


Something to Hide?

No inquiry into 7 July bombings

There will be no public inquiry into the 7 July London bombings which killed 52 people, the Home Office has said.

Ministers will instead publish a definitive account of what happened in a written narrative.

The account will include material gathered from intelligence and security agencies and the police.

But some Muslim groups and victims' relatives have expressed anger, saying a wider public inquiry is essential for understanding what happened.

See the rest of this article here: bbc-uk

My Comments:

Statements that "The most important thing is to concentrate on further terrorist threats" rather then hold a public enquiry (as issued by Charles Clarke in response to questioning as to why this decision had been taken), are simply not good enough. Not only do relatives of the victims need to know what happened, but the Muslim Community needs answers too (and answers they can trust), otherwise the victimisation they are suffering at the hands of some members of the public may increase and will certainly not abate.

But, of course, this also raises the question what do the Government not want us to know? And it could well be that many more people will be asking this question now.


posted by summersun70 at 2:12 PM

0 comments



Tuesday, December 13, 2005
Hemel Fire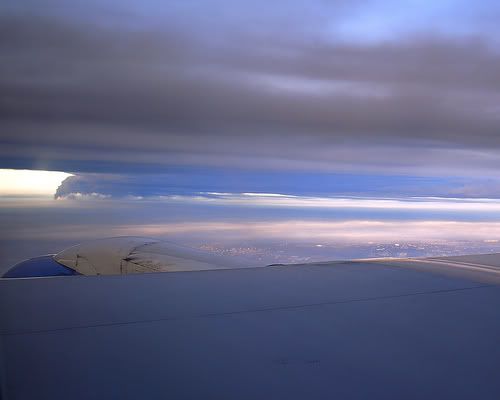 We woke up this morning to find a thick, dark sky outside. As the sun rose, it was partially obscured by a dense, dirty, blue/grey cloud. The cloud of pollution from the fire at Buncefield Fuel Depot was upon us.

There is no doubt that is what it was. Instead of the usual bulky, white or grey clouds which herald rain (as promised), but which still let through the occasional glimpse of clearer sky, this 'cloud' covered most of the sky, and it was thicker, bulkier and dingier, and the only glimpse we had of anything peeping through was of a mucky grey colour. We could actually see the edge of the cloud running slightly diagonally across the horizon. There was a distinct break between the long line of lumpy blue/greyness and a lighter, much clearer sky, with the part of the Sun which wasn't obscured by the pollution cloud shining through.

For me, the freakiest thing was that, even though there was supposed to have been a frost last night, every part of the land under the pollution cloud was unaffected and, I would say, a few degrees warmer than the rest of the countryside. I think that brought home to me how much we were at the mercy of this large lump of man-made murkiness.

We had watched the news last night and seen the trajectory of the smoke from Hemel Hempstead and the prediction as to which way it was moving. It should have missed us by a few miles at least, but obviously the wind changed during the night.

When I first began to write this, the cloud was actually running the same course as aircraft travel when they fly South-West from Heathrow or Gatwick. So I would imagine that changes had been made to flight paths – not that we could tell in any case, as the cloud obscured any sky on which we would usually see aircraft trails. Tonight the 'cloud' has dispersed a little, but we can still see that 'break' across the horizon, now showing the lights of the nearby city in stark contrast to the murk covering us.

We are told that this cloud is not dangerous to our health (unless we are asthmatic, or suffer from respiratory disease), but I am not a great believer in what 'they' tell us.

So all our windows have remained closed and the dogs have not been out for their usual run. Not that closing windows will help us in the long term. 'They' have been careful so far not to discuss possible long term effects of the pollution cloud.

As to the explosion. First of all, it is a great relief to know that no one was killed and I hope that this remains to be the case, considering the danger the fire crews are under fighting the blaze. I understand that it is very close to being extinguished completely by now. I hope so.

It wouldn't surprise me if Blair and his cronies didn't try to blame the explosion on Al Qaeda or another 'terror group', but I understand they did consider this. They may still find a way to apportion the blame in terror's direction. We'll just have to wait and see.

It seems that, at the moment anyway, the main question being asked is "Why have a fuel depot so near to people's homes?" But in actual fact, the depot was there first.

The question that they should be asking (among others) is "Why build homes so near to potentially lethal sites?" But in a country as crowded as England (especially the South East) we know the answer to that one – money.

Throughout England (and possibly Wales and Scotland also; I don't know) planners have paid scant regard to people's health and well-being when setting up new housing developments. If a site is declared as potentially lethal and 'unfit for building on', it seems that the planners wait until all the 'hassle' has died down …. And then go ahead and build homes anyway. This has happened again and again in the area around us and appears to be country-wide.

So the question has to be "Do they really care about putting people's lives at risk?" And the answer seems to be "No". Not when they can get away with it, anyway.
posted by summersun70 at 10:38 AM

0 comments







Monday, December 12, 2005


14 Points of Fascism

14 Points of Fascism

A 'must read' copied from jackdaltons excellent blog:

14pointsoffascism

posted by summersun70 at 6:26 AM

1 comments








Bird Flu hype

Bird flu hype infecting biotech industry

By PAUL ELIAS, AP Biotechnology Writer,  Monday, December 5, 2005:      San Francisco (AP) -- Two years ago, as fears of a SARS pandemic spread, a San Diego biotech company aided by federal dollars speeded a promising vaccine out of the lab and into human testing.     But when Vical Inc. and the government wrap up the 15-person test next year, the drug is expected to end up on the shelf because the dreaded global epidemic never panned out. Bird flu has now overtaken SARS as the No. 1 feared global death threat.     As biotechnology companies suddenly refocus their profit mission to the new threat — and investors drive stock prices to new highs — some analysts wonder if these endeavors could face the same fate Vical met with its rapid response to severe acute respiratory syndrome, or SARS.     "There are so many unknowables and a lot of hype," said AG Edwards analyst Al Goldman. "The avian flu potential is something that you can't get your arms around because no one knows if — or when — a pandemic is going to happen."     The particular bird flu strain that now worries health officials has been around since 1997 and has killed 62 people worldwide since 2003, yet it hasn't acquired the genetic changes it needs to start spreading easily from person to person.     What's more, leading scientists now discount the notion that flu pandemics happen in regular intervals and that the world is overdue for a new one.

See the rest of this article here: SFGate

My Comments:

As the man says

, "

There are so many unknowables and a lot of hype,"
So why all the hype now?
Greed?
Hopes of spreading/maintaining the climate of fear? 
Genuine concern? I really don't think it's the latter.
posted by summersun70 at 6:25 AM

0 comments







Saturday, December 03, 2005


New STD

The Centers for Disease Control and Prevention has issued a warning about a new virulent strain of Sexually Transmitted Disease. The disease is contracted through dangerous and high risk behavior.

Gonorrhea Lectim is pronounced "gonna re-elect him."

Many victims contracted it in 2004, after having been screwed for the past four years. Cognitive characteristics of individuals infected include: anti-social personality disorders, delusions of grandeur with messianic overtones, extreme cognitive dissonance, inability to incorporate new information, pronounced xenophobia and paranoia, inability to accept responsibility for own actions, cowardice masked by misplaced bravado, uncontrolled facial smirking, ignorance of geography and history, tendencies towards evangelical theocracy, and categorical all-or-nothing behavior.

Naturalists and epidemiologists are amazed at how this destructive disease originated only a few years ago from a bush found in Texas.
posted by summersun70 at 8:21 PM

0 comments



About Me
Name:
summersun70
Location:
United Kingdom
View My Profile
Previous Posts
We have moved!
Guardian Unlimited _ UK Latest _ Minister forced i...
The Sacred Moment: ON TORTURE
Have we become desensitized to the horrors of tort...
Amazing Amnesty International Ad Campaign
No Surprises...
David Cameron - 'man of the people' - well .... ma...
Blair begins covering his tracks .... again ....
Quotation Day!
Another Fine Mess?
Archives
September 2005
October 2005
November 2005
December 2005
January 2006
February 2006
March 2006
April 2006
May 2006
June 2006
October 2006
Links to Other Sites
Blogger


Subscribe via Email



Powered by Yutter


Join the Blue Ribbon Online Free Speech Campaign!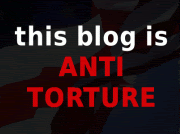 Join Us!
Join Us!


BlinkBits
BlinkList
Blogmarks
del.icio.us
Digg it
feedmelinks
Furl
Linkroll
ma.gnolia
Netvouz
Onlywire
RawSugar
reddit
Shadows
Simpy
Spurl
Yahoo MyWeb