Friday, December 30, 2005


Is enough ever going to be enough?

US probes leak of domestic eavesdropping programme

By Deborah Charles

WASHINGTON (Reuters) - The U.S. Justice Department is investigating who disclosed a secret domestic eavesdropping operation approved by President George W. Bush after the September 11 attacks, officials said on Friday.

"We are opening an investigation into the unauthorised disclosure of classified materials related to the NSA," an official said on condition of anonymity.

Earlier this month, Bush acknowledged the programme and called its disclosure to The New York Times "a shameful act." He said he presumed the Justice Department would investigate who leaked the National Security Agency eavesdropping operation to the newspaper.

……………..

It is the second recent high-level probe into the leak of classified information to the media.

After a two-year investigation into the disclosure of a covert CIA operative's identity, a special prosecutor in October indicted Vice President Dick Cheney's chief of staff, Lewis "Scooter" Libby on perjury and obstructing justice charges.

That investigation is still continuing.

……………….

A 1978 law, the Foreign Intelligence Surveillance Act, makes it illegal to spy on U.S. citizens in the United States without the approval of a special, secret court. Bush secretly gave the NSA authority to intercept communications without such approval.

The White House has sought to play down the impact on civil liberties, saying the programme was narrow in scope and that key congressional leaders were briefed about it.

For all of this article see: msn-newsbox-uk

My Comments:

So the bald-faced fight back by the Bush administration has begun.

Let's just hope this is a desperate measure by a regime that has been well and truly caught out of line.

But with the covertly-engineered hold over a vast number of American citizens that this administration has, all we can do is hope …. and watch while the game plays on……

posted by summersun70 at 11:25 AM

1 Comments:
I wish other Americans were even a quarter as informed as you in regard to farce that is the Bush Administration...
6:30 PM
About Me
Name:
summersun70
Location:
United Kingdom
View My Profile
Previous Posts
A Christmas Story to warm the Heart
Drunken Santas?
Jose Cuervo Christmas Cookies
Xmas Cards From Famous People
Something to Hide?
Hemel Fire
14 Points of Fascism
Bird Flu hype
New STD
Met chief faces probe on killing of Jean Charles d...
Archives
September 2005
October 2005
November 2005
December 2005
January 2006
February 2006
March 2006
April 2006
May 2006
June 2006
October 2006
Links to Other Sites
Blogger


Subscribe via Email



Powered by Yutter


Join the Blue Ribbon Online Free Speech Campaign!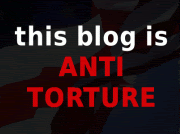 Join Us!
Join Us!


BlinkBits
BlinkList
Blogmarks
del.icio.us
Digg it
feedmelinks
Furl
Linkroll
ma.gnolia
Netvouz
Onlywire
RawSugar
reddit
Shadows
Simpy
Spurl
Yahoo MyWeb