Saturday, December 03, 2005


New STD

The Centers for Disease Control and Prevention has issued a warning about a new virulent strain of Sexually Transmitted Disease. The disease is contracted through dangerous and high risk behavior.

Gonorrhea Lectim is pronounced "gonna re-elect him."

Many victims contracted it in 2004, after having been screwed for the past four years. Cognitive characteristics of individuals infected include: anti-social personality disorders, delusions of grandeur with messianic overtones, extreme cognitive dissonance, inability to incorporate new information, pronounced xenophobia and paranoia, inability to accept responsibility for own actions, cowardice masked by misplaced bravado, uncontrolled facial smirking, ignorance of geography and history, tendencies towards evangelical theocracy, and categorical all-or-nothing behavior.

Naturalists and epidemiologists are amazed at how this destructive disease originated only a few years ago from a bush found in Texas.
posted by summersun70 at 8:21 PM

0 Comments:
About Me
Name:
summersun70
Location:
United Kingdom
View My Profile
Previous Posts
Met chief faces probe on killing of Jean Charles d...
No Surprises
Human Rights and Opposition to the War in Iraq
All may not be as it seems
Call Centre Irony
Women and Rape in the UK
A Strange Idea of Justice
At Last Some Good News
More 'control tactics'?
The Debate on ID Cards
Archives
September 2005
October 2005
November 2005
December 2005
January 2006
February 2006
March 2006
April 2006
May 2006
June 2006
October 2006
Links to Other Sites
Blogger


Subscribe via Email



Powered by Yutter


Join the Blue Ribbon Online Free Speech Campaign!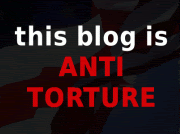 Join Us!
Join Us!


BlinkBits
BlinkList
Blogmarks
del.icio.us
Digg it
feedmelinks
Furl
Linkroll
ma.gnolia
Netvouz
Onlywire
RawSugar
reddit
Shadows
Simpy
Spurl
Yahoo MyWeb