Saturday, February 25, 2006


An interesting comparison

When They Make a Film About Iraq What will It Say?

Joan Chittister is talking about the German film 'Downfall'. This is what she says about the film:

"It is a demonstration of what happens to a nation that substitutes idolatry of the leader for responsible citizenship. Little by little, the film unravels before our eyes the downfall of the military system and its loss of integrity and truth."

She then talks Iraq and compares the situation there and its repercussions to the last days of Nazi Germany. These are her closing lines:

".... Maybe we all ought to see the film before it's too late, before our own downfall as a nation in the minds of people across the world is complete. Don't worry that it's in German with English subtitles. The problem is that you may understand this one all too well."

An article well worth a read.
posted by summersun70 at 7:57 PM

0 Comments:
About Me
Name:
summersun70
Location:
United Kingdom
View My Profile
Previous Posts
Bird Flu News with a difference
Pioneers or hopeless cases?
Thoughts on Blair's 'Natural Successor'
Nice future?
Justice turned on its head
Invasion of Privacy???
Tracking Our Cash
A few facts from the World Processor
For Euro Sceptics Everywhere
The Truth Behind the UK 'Work Ethic'
Archives
September 2005
October 2005
November 2005
December 2005
January 2006
February 2006
March 2006
April 2006
May 2006
June 2006
October 2006
Links to Other Sites
Blogger


Subscribe via Email



Powered by Yutter


Join the Blue Ribbon Online Free Speech Campaign!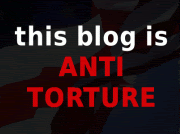 Join Us!
Join Us!


BlinkBits
BlinkList
Blogmarks
del.icio.us
Digg it
feedmelinks
Furl
Linkroll
ma.gnolia
Netvouz
Onlywire
RawSugar
reddit
Shadows
Simpy
Spurl
Yahoo MyWeb