Saturday, February 11, 2006


Talking of 'them' watching 'us' ......

WORKPLACE SURVEILLANCE
On the job, you're never alone
Many companies monitor their workers' online activities, along with their phone conversations

By ALISON GRANT For: chron.com

"Whether they know it or not, employees are rarely alone on the job.

"Businesses are deploying a battery of high-tech gadgets to keep track of employees in office cubicles, factories and hospitals and on the road.

"Nine out of 10 companies engage in workplace surveillance — above all, monitoring computer use — according to a 2005 survey.

"Employees should go to work assuming that Big Brother is going to read over their electronic shoulder when they're sitting at the computer," said Nancy Flynn, executive director of the ePolicy Institute in Columbus, Ohio….

......

…According to the survey, one aspect of workers' online lives is still relatively private: Only a fraction of the businesses said they scrutinized workers' personal blogs.

But workplace specialists say companies ignore blogs at their peril.

They can be a source of leaks about products or sensitive merger talks and of unfounded rumors that damage a company's reputation and bottom line.
And there are indications blogs are getting a look. A former Delta flight attendant, Ellen Simonetti, has sued the airline, saying she was fired after posting pictures of herself in a Delta uniform on her blog.

There's even slang now to describe being booted from a job for blogging about an employer — dooced. The term comes from a Salt Lake City woman who was fired from her Web design job for writing about her work and colleagues on her blog, Dooce.com ........

The rest of the article is here: WorkplaceSurveillance

My Comments:

I think most of us realise by now that our internet activities are being monitored at work, but we all seem more and more inclined to just put up with it. Why?

Are we all that dummed down?


posted by summersun70 at 7:32 PM

0 Comments:
About Me
Name:
summersun70
Location:
United Kingdom
View My Profile
Previous Posts
Watched from all angles
More evidence of deceit
It was only a matter of time ....
What 'Free Speech' really means
50 most loathsome.....
Intelligent Design?
No 'tolerance' here
Doesn't anyone care?
If only!
More on BB and Galloway
Archives
September 2005
October 2005
November 2005
December 2005
January 2006
February 2006
March 2006
April 2006
May 2006
June 2006
October 2006
Links to Other Sites
Blogger


Subscribe via Email



Powered by Yutter


Join the Blue Ribbon Online Free Speech Campaign!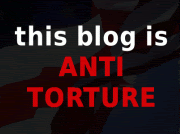 Join Us!
Join Us!


BlinkBits
BlinkList
Blogmarks
del.icio.us
Digg it
feedmelinks
Furl
Linkroll
ma.gnolia
Netvouz
Onlywire
RawSugar
reddit
Shadows
Simpy
Spurl
Yahoo MyWeb