Sunday, February 12, 2006


With friends like that ....



Cheney accidentally shoots fellow hunter



Reported on: CNN at 22.58 GMT


"WASHINGTON (AP) -- Vice President Dick Cheney accidentally shot and wounded a companion during a weekend quail hunting trip in Texas, spraying the fellow hunter in the face and chest with shotgun pellets.

Harry Whittington, a millionaire attorney from Austin, was "alert and doing fine" in a Corpus Christi hospital Sunday after he was shot by Cheney on a ranch in south Texas, said Katharine Armstrong, the property's owner.

……

Armstrong said Cheney is a longtime friend who comes to the ranch to hunt about once a year and is "a very safe sportsman." ……. "


And if that's what he does to friends ……….

posted by summersun70 at 3:05 PM

0 Comments:
About Me
Name:
summersun70
Location:
United Kingdom
View My Profile
Previous Posts
Talking of 'them' watching 'us' ......
Watched from all angles
More evidence of deceit
It was only a matter of time ....
What 'Free Speech' really means
50 most loathsome.....
Intelligent Design?
No 'tolerance' here
Doesn't anyone care?
If only!
Archives
September 2005
October 2005
November 2005
December 2005
January 2006
February 2006
March 2006
April 2006
May 2006
June 2006
October 2006
Links to Other Sites
Blogger


Subscribe via Email



Powered by Yutter


Join the Blue Ribbon Online Free Speech Campaign!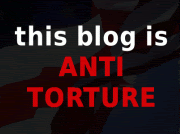 Join Us!
Join Us!


BlinkBits
BlinkList
Blogmarks
del.icio.us
Digg it
feedmelinks
Furl
Linkroll
ma.gnolia
Netvouz
Onlywire
RawSugar
reddit
Shadows
Simpy
Spurl
Yahoo MyWeb