Friday, March 31, 2006


MSN helps Brits exercise their democratic rights ...... yeah, sure ....

Prime Minister's Questions Moves Online With MSN Messenger

"Prime Minister Tony Blair and MSN Messenger have teamed up to take Prime Minister's Question Time online in a unique competition that will give ten members of the public the chance to put questions live to the PM.

The competition is now closed and on Tuesday 4th April, the winners will hold live video conversations over MSN Messenger with the Prime Minister at 10 Downing Street, the first time he has taken questions via live video over the internet.......

...... Following last summer's G8 Summit in Gleneagles questions were invited on two major issues, the issue of Africa, and the issue of climate change.

A Downing Street spokesperson said: "Our G8 Presidency last year made big strides, doubling aid for Africa, cancelling debts and agreeing new measures on peacekeeping, corruption HIV/ AIDS, health and education to benefit people in Africa. We also built the international consensus on the need to address climate change.

"The Prime Minister is committed to turning these promises into action in 2006, and wants to hear views from the public on these two vital issues."

"It's an honour for everyone at MSN to work with the Prime Minister on this unique competition. With one in six people in the UK using MSN Messenger, events like these will become commonplace as the internet plays an increasingly important role in political debate," said Chris Ward, Commercial Director, MSN UK......."



My Comments:



Just a cynical sigh really ......


This is true Democracy ..... isn't it? ...... After all, our PM and MSN are both known for their respect of freedom and democratic rights ...... Well .... aren't they ....?

Sigh ......


posted by summersun70 at 3:31 PM

1 comments







Thursday, March 30, 2006


30 days to go ........

World powers warn Iran

BERLIN (Reuters) - The world's big powers told Iran on Thursday it must heed a U.N. order to curb its nuclear programme or face isolation, but Tehran refused to budge.

Britain said Iran could eventually face U.N. sanctions if it failed to suspend uranium enrichment, a process which can produce fuel for nuclear power stations or for bombs.

Iran, which says it wants only civilian nuclear power, rejected a U.N. Security Council presidential statement adopted on Wednesday that called for an enrichment freeze and a report from the U.N. nuclear watchdog on Iranian compliance in 30 days.

"Iran must decide between a self-imposed isolation through its continuation of enrichment ...or a return to the negotiating table," German Foreign Minister Frank-Walter Steinmeier said.

"We all hope Iran will take the opportunity to opt for a restart of negotiations," he told reporters after a meeting in Berlin of the council's five permanent members and Germany.

Steinmeier added that the international community still aimed to find a diplomatic solution to the stand-off.

British Foreign Secretary Jack Straw said the top world body might pass a legally binding resolution if Iran did not comply with the non-binding presidential statement, opening the way to future measures against the Islamic Republic.

Asked if such action could include sanctions, Straw told reporters: "It could do.

But he also said Iran could gain unspecified benefits if it backed down. "If they bring themselves into compliance then all sorts of good things, not bad things, will follow.......

...... Russia and China firmly oppose any sanctions, let alone force, against Tehran and insisted on removing language in the U.N. statement that they feared could lead down that path.

Iran said its decision to pursue enrichment was irreversible and suggested the West was manipulating the Security Council.......

...... Oil climbed further above $66 a barrel towards its $70 record after Iran rejected the U.N. admonition.

"There's got to be a crunch point over Iran," said oil analyst Geoff Pyne. "At the end of the day Iran is intent on uranium enrichment and the West won't allow it.......

...... U.S. Secretary of State Condoleezza Rice told reporters en route to Berlin that the world must keep up pressure on Iran to suspend enrichment and return to negotiations.

She urged the other permanent council members and Germany to take into account Iran's calls for Israel to be "wiped off the map", as well as its support for Syria and Hizbollah in Lebanon......

The whole article can be found at: MSN-newsbox



My Comments:



Let's face it, if Rice has her way 'diplomatic negotiations' will simply be about what suits the US-led West.

And, ridiculous (and terrifying) as it seems, the Bush regime is out for a new 'conquest'. It doesn't seem to have weighed up the odds of 'success' (which are almost non-existent); it doesn't seem to care. It certainly doesn't seem to have any morals about the issue that it wishes to consider.

And it seems that all we can do is sit back and wait for the inevitable war to happen. It doesn't matter whether their propoganda persuades enough of us or not, they will go ahead anyway.

And

that

is the most terrifying thing about the whole situation.
posted by summersun70 at 10:24 AM

0 comments



Tuesday, March 28, 2006
Testing
posted by summersun70 at 8:01 AM
0 comments





Monday, March 27, 2006


Life - but only at the right price?

Woman appeals in Herceptin case

LONDON (Reuters) - A woman with early-stage breast cancer went to the Court of Appeal in London on Monday in a bid to force her health authority to pay for the potentially life-saving drug Herceptin.

Ann Marie Rogers, 54, is appealing against a High Court ruling last month that Swindon Primary Care Trust in Wiltshire need not pay for the costly medication, made by Switzerland's Roche.

At an earlier hearing, the judge was told that Rogers felt as though she had been given "a death sentence" as a result of having been initially refused the drug, which costs about 20,000 pounds ($35,000) a year.

Rogers' lawyer David Pannick told the court on Monday that refusing the drug was "unlawful and unreasonable" and breached his client's rights under the Human Rights Convention.

Herceptin is one of a new generation of targeted therapies which attack only cancer cells and are tolerated much better than traditional chemotherapy.

The drug is only licensed for use in women with advanced breast cancer, although doctors can use their discretion to prescribe it in other cases.

Research has shown Herceptin can help patients in the early stages of breast cancer but many health authorities say they will only fund treatment in exceptional cases.

"The case for Miss Rogers is that refusal of the respondent trust to provide her with the drug Herceptin was unlawful, it was unreasonable, it was the result of a failure to give proper consideration to relevant factors and it breaches her right to life," Pannick said.

Rogers met all the necessary criteria for a patient to receive the drug and her doctor had said she should be given it as it represented her best chance of survival.

"The stark facts are she has a 25 percent chance of remaining free of the disease after 10 years and a 57 percent prospect of breast cancer killing her in 10 years," he added.......

The rest of this article can be found here: MSN.UK



My Comments:



Like most women, the prospect of getting Breast Cancer is a real fear. In fact, the prospect of getting any kind of cancer is something I dread. It is still, so often, a death sentence.

So, when a drug is developed that has been proved to give more hope for women with breast cancer, I can see no moral reason to withhold it from them.

Okay, one argument is that it is still unlicenced in this country and has, thus, not completed all trials. The argument goes that it is offered to some women with late stage breast cancer because, weighing up the benefits of the drug against the risk of using it when trials are incomplete, it can be seen that the hope it offers these women is worth the risk of, as yet undiscovered, side effects.

A compelling argument.

There is also the argument that Herceptin will not help in

all

cases of breast cancer, so it would be pointless to give it to all women without assessing whether they were suitable candidates for the drug. Fair enough.

But when an NHS Trust decides whether or not a woman can have Herceptin, and their case is based, primarily, on the

cost

of the drug - ie. whether it is 'cost effective' - to offer it to her, and when, as in the case of Ann Marie Rogers, a breast cancer specialist has recommended that she receive Herceptin, and has assessed her illness as

one which would benefit from the drug

, but those in charge of the Trust (ie. managers, not health specialists) say that she shouldn't receive it (at least, not from their fundings) then there is something vitally wrong with the the UK system of NHS funding.

But I'm only a woman who pays her taxes and National Insurance (part of which

should

go to the NHS).

And I'm only a human being who believes in human rights.

What do I know?
posted by summersun70 at 10:08 AM

0 comments








Why So Long?



"Unwitting racism" by police in soldier's death



By Michael Holden

From: newsbox.msn.co.uk

LONDON (Reuters) - Police officers were guilty of serious failings and unwitting racism over the death of a black ex-soldier in their custody eight years ago, an independent watchdog ruled on Monday.

Christopher Alder, 37, a former paratrooper and Falklands War veteran, died on the floor of the custody suite at Hull's Queens Gardens police headquarters in April, 1998 after being arrested following a fight outside a nightclub.

His last moments were caught on closed circuit TV as he choked to death on blood and vomit resulting from injuries he had sustained in the earlier fracas while officers ignored him and carried on chatting.

In a damning report, Nick Hardwick, chairman of the Independent Police Complaints Commission (IPCC), described the pictures as "shocking and distressing".

"The most serious failings were by the four police officers who dealt with Mr Alder throughout his time in the custody suite," Hardwick said.

"I believe they were guilty of the most serious neglect of duty. Their behaviour has disgraced police officers and the police service as a whole. Their failures were personal and individual.

Humberside's Chief Constable apologised for the police's behaviour on the night and said he accepted all the IPCC's findings.

"I completely agree that the desired standard of compassion and care was not met on the night in question," Tim Hollis said, adding he too was appalled by CCTV footage of the death.

"The time is right for me publicly to apologise to Christopher Alder's family for our failure to treat Christopher with sufficient compassion and to the desired standard.

Five police officers were charged with manslaughter over the death in 2002 but later acquitted. They were also cleared of any wrongdoing by police disciplinary hearings, although these were also heavily criticised by the IPCC.

Hardwick said he did not believe the officers had assaulted Alder nor that their neglect had directly caused his death.

UNWITTING RACISM

But he said the men -- who had refused to cooperate with the IPCC's investigation -- had been guilty of unwitting racism.

"I believe the failure of the police officers concerned to assist Mr Alder effectively on the night he died were largely due to assumptions they made about him based on negative racial stereotypes," Hardwick said.

"I cannot say for certain that Mr Alder would have been treated more appropriately had he been white -- but I do believe the fact he was black stacked the odds more heavily against him.

Alder's sister Janet said the report was strong but there would have been even greater criticism had there been a public inquiry as the family had wanted.

She said the officers should be prosecuted, adding that she could clearly hear "monkey and chimpanzee noises" on the CCTV recordings as her brother lay dying.

"What I want to know is why this investigation is not going further and finding out who made those monkey noises," she told Sky News, saying she believed her brother would still be alive if he was white.

Hollis said police had now made "significant" improvements in how they dealt with people in custody since the incident.



My Comments:



As Christopher Alder's sister said, why

isn't

this investigation going any further? There are new grounds to do this, surely?

An apology,

8 years later

, is

just not good enough

.
posted by summersun70 at 9:48 AM

0 comments







Sunday, March 26, 2006


Global Warming - the issues behind catastrophe

Be worried, be very worried


The climate is crashing, and global warming is to blame



Never mind what you've heard about global warming as a slow-motion emergency that would take decades to play out. Suddenly and unexpectedly, the crisis is upon us.

From heat waves to storms to floods to fires to massive glacial melts, the global climate seems to be crashing around us.

The problem -- as scientists suspected but few others appreciated -- is that global climate systems are booby-trapped with tipping points and feedback loops, thresholds past which the slow creep of environmental decay gives way to sudden and self-perpetuating collapse. That's just what's happening now.......

...... As fast as global warming is changing the oceans and ice caps, it's having an even more immediate effect on land. Droughts are increasingly common as higher temperatures also bake moisture out of soil faster, causing dry regions that live at the margins to tip into full-blown crisis.

Wildfires in such sensitive regions as Indonesia, the western U.S. and even inland Alaska have been occurring with increased frequency as timberlands grow more parched. Those forests that don't succumb to fire can simply die from thirst.

With habitats crashing, the animals that call them home are succumbing too. In Alaska, salmon populations are faltering as melting permafrost pours mud into rivers, burying the gravel the fish need for spawning. Small animals such as bushy tailed rats, chipmunks and pinion mice are being chased upslope by rising temperatures, until they at last have no place to run. ......

The full article can be found here: TIME.com



My Comments:



The threat of Global Warming and the disasters which may follow are very real. However, it may be that the cause is not the burning of fossil fuels alone (which would, of course, provide a let-out clause for the US, still trying to dodge KYOTO).

There is compelling scientific evidence coming from Russian scientists that other factors may be to blame, including impacts suffered by the Earth's surface over recent years. This article: Greenhouse Theory Smashed by biggest stone, for example, makes a great deal of sense.

Worth checking out .....
posted by summersun70 at 10:20 AM

0 comments







Saturday, March 25, 2006


A man who cares



Kember returns home



By Jeremy Lovell

LONDON (Reuters) - Freed Christian peace campaigner Norman Kember flew home on Saturday following his rescue by special forces soldiers after being held hostage in Iraq for four months.

Kember, 74, a retired professor of medical ethics, arrived at London's Heathrow Airport at 1225 GMT on a scheduled British Airways flight from Kuwait, where he had been flown in a British military transport plane from Baghdad on Friday afternoon.

Looking tired and frail, but speaking in a firm voice, he thanked the soldiers who had rescued him and two Canadian colleagues from kidnappers on Thursday.

"I do not believe that a lasting peace is achieved by armed force, but I pay tribute to their courage and thank those who played a part in my release," he said in a prepared statement shortly after arrival.

British Army chief Michael Jackson had criticised Kember for apparently failing to thank the soldiers who freed him and his colleagues.

Sitting next to his wife Pat, 72, in an airport hospitality lounge, Kember said he was not ready to talk about his time in captivity.

He said the world should spare a thought for Iraqi citizens who had to live through the daily violence plaguing the country.

"There is a real sense in which you are interviewing the wrong person," he said.

"It is the ordinary people of Iraq that you should be talking to -- the people who have suffered so much over many years and still await the stable and just society that they deserve......."

The rest of this article can be found here: msnnewsbox-uk

A very apt comment from a man who cares about humanity.

It's a shame that our politicians do not have the same concerns.
posted by summersun70 at 1:42 PM

0 comments







Friday, March 24, 2006


The Freethought Philosophy

Sections from: The Freethought Philosophy

John Patrick Michael Murphy
copyright 1998

"Freethinkers, employ reason when they are beseeched to join a religion. Religionists seem to employ reason in all areas of their lives except religion, and even here they use it to disregard all religions, but their own. So we have a continent of common ground. Religionists reject all but one, freethinkers, one more. Religionist are not critical of us for examining the doctrines of Islam, Wicca, Buddhism, or Hinduism and rejecting them as fallacious, but when our attention turns to Judeo-Christianity a bar is placed in our path. We are called evil and un-American for sharing our honest thoughts. We are told we are naught but kindling for the hell their god has fired up for us, and they look hurt when we complain about it. At least now they wait for their god to do it. Servitus, Bruno and millions of others weren't so lucky.

Thinking about their god was a capital crime called blasphemy. All philosophy was heresy in their theocracy. The echo of all that holy gore is still with us. From the airwaves, and even in print media we freethinkers are demonized still. If we speak of their bigotrous history and the crimes committed in the name of god, we are called Christian bashers. We do not bash Christians, ( popes, shamans, TV and radio wailers, religiopoliticals, and other high clergy excepted), but rather, Christianity. And think of the terrible weapons we employ like logic, reason, thought, the searing simile, the fearsome metaphor and on rare occasions we are so nasty as to bring out the ominous onomatopoeia, all found in arsenals called libraries. We set forth lucid reasons why we reject it, and assert that we can be good and decent people in spite of our "failing." "The very idea !!!" they exclaim. That's why I'm here, asking for understanding.....

...... My problem with Christianity is not the impossibility of the mud man, Adam, or the rib lady, Eve, or the snakes from sticks tricks of the Pentateuch, Balaam's talking jackass, or even the God ordained wars of conquest, genocide, polygamy, slavery, and other nauseations found in the "good book," but rather its fundamental flaw - there is no love in the Christian hereafter.........

...... That's my biggest problem with Christianity-salvation depends upon belief. My beliefs come from thought and reflection. I can't control them. I don't choose to believe-it just happens. In the case of religion in general and Christianity in particular it never happened. Call me a stillborn christian......."



My Comments

:

That last comment, in particular, sums up my feelings about Christianity - all that I have learned; all my experience; all my understanding; causes me to doubt the basic tenets of Christianity.

But I am not a 'bad person'. I believe in freedom, equality, basic human rights. I hate all forms of prejudice and bigotry and I care about humanity.

Yet according to the 'rules' of Christianity, my 'lack of belief' is not only wrong, it will also cast me to some awful version of 'hell'.

Of course, some would say that we are there already, or at least, if our 'leaders' have their way, we soon will be ..... but that's another story.
posted by summersun70 at 5:39 PM

1 comments







Wednesday, March 22, 2006


Iran - What are the Real Issues?



AN UNNECESSARY CRISIS


By David MacMichael, Ph.D

(Author's note: As a member of Veteran Intelligence Professionals for Sanity, an organization of former US intellligence officers from the CIA, DIA, Department of State and Department of Defense, I took part in 2002 in the preparation of a series of public statements countering the Bush administration's alleged intelligence behind its rationale for the invasion of Iraq.

These statements were based not only on our past experience with presidential manipulation of intelligence in Vietnam and the Iran-Contra era but with information we received from alarmed former colleagues still within the intelligence services. We warned that not only was the information about supposed weapons of mass destruction in Iraq, particularly nuclear weapons, suspect and more than likely false, but that the overall strategy behind the invasion plan overrated prospects of success and vastly underestimated the probable cost to the United States in lives and money.

Our misgivings, we now know, were all too correct. That is why we look with growing alarm at the manner in which the administration has approached the problem—if, in fact, it is a problem—posed by Iran's long-established program of developing a nuclear energy system, a program which could eventually give the country the ability to produce a nuclear weapon........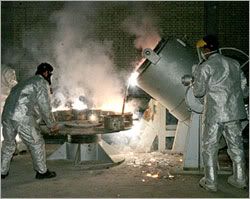 ...... In my belief, as the writer of the following analysis, the Bush administration representation of Iran, unarguably a conservative Shiite Islamic state supportive of Shiite minorities in Iraq and Lebanon, among other countries, as a reckless and aggressive nation, a danger to the region or even to the United States, has no grounding in history. My analysis demonstrates that Iran, on the contrary, has over the past half century been the victim of both covert and overt aggression—in much of which the US has been involved.

It is difficult for me to understand not only why the Bush administration is pursuing its aggressive policy against Iran, especially at a time when its position in Iraq is crumbling toward utter failure, but how it has been able to enlist much of the European Union countries in its support. The analysis explores the issue.)....

Dr David MacMichael's full analysis can be found here: The_Iranian_Nuclear_Showdown.

It makes disturbing reading ....
posted by summersun70 at 11:10 AM

2 comments







Tuesday, March 21, 2006


More on Jericho

Jerico and beyond

By Yossi Schwartz in Israel
Monday, 20 March 2006

On Tuesday March 14, the Israeli Army shelled and occupied a prison in Jericho and after it had demolished parts of the prison walls "victoriously" kidnapped a group of prisoners, including Ahmed Saadat, the accused mastermind of the killing of a far right Israeli Cabinet minister, by the name of Rehabam Zeevi.

Ahamd Saadat is the leader of the Popular Front for the Liberation of Palestine (PFLP) a left wing guerrilla group. Zeevi was known for his close relations with the Israeli Mafia and he was the leader of Moledet (Country) party calling for the "transfer" of the Arabs citizens of Israel, i.e. their expulsion, adding them to the millions of Palestinian refugees who have languished in camps ever since the partition of Palestine and the subsequent occupation of the Palestinian Territories. Among other things Rehbam Zeevi was one of the masterminds who transferred 120,000 Arabs from the Golan Heights after the occupation in 1967.

We Marxists oppose the methods of individual terror as they only help the most reactionary wing of the ruling class. Instead of weakening the Zionist right they strengthen it. Instead of raising class consciousness among the Israeli workers they lower it.......

......

......it is true that Israel is not a Nazi regime and the year is not 1942 (the "final solution") but Rehabam Zeevi was a fascist and his actions were no better than that of the Nazi transfer of 17,000 Jews in 1938. We have to be able to distinguish between the desperate act of the oppressed and the terrible repression carried out by the oppressor, even though we do not agree with the method of individual assassinations.

In Jericho what we saw was the action of the oppressor, a powerful army far better equipped than the people of Palestine. According to Al Jazeera, reporting the words of Akram Rajoub, the local security commander, the "Israeli army entered Jericho on Tuesday morning [of last week] and surrounded the prison, calling over loudspeakers for the prisoners to give themselves up. The troops then broke in through the front gate of the jail with a bulldozer, drove inside in armored personnel carriers, and engaged in a shootout with the Palestinian police."

US and British observers who had been monitoring the jail for the past four years withdrew early on Tuesday morning – just before the raid – because of "security concerns". The Israeli government ordered the raid because the monitors were withdrawn, the army said. The truth, however, is evidently the opposite: the British and American monitors withdrew to allow the Israeli army to raid the prison. ......

This is a known pattern.......

...... We, the Marxists in Israel who work in the Labour Party struggling for the socialist transformation of the rotten capitalist order, demand the immediate release of Ahmad Saadat. The Israeli ruling class is the last one to have any moral authority to bring to trial the PFLP for killing an Israeli war criminal, an enemy of the working class.

At the same time we oppose individual terrorism, as it is a method that only serves reaction in Israel. The only way forward is through the revolutionary struggle of the working class.

March 20, 2006

The whole of this article can be read here: InDefenceofMarxism


My Comments:

Whatever you may think about Marxism itself, the arguments made in this very full article are powerful.

Something rotten occurred in Jericho last week and it cannot be brushed aside by half-hearted attempts by our Foreign Secretary to convince us that there was no collusion involved.
posted by summersun70 at 6:03 AM

1 comments







Monday, March 20, 2006


Marketing 'Freedom'



Bush's Passion for Freedom


by Robert Scheer

By now many commentators, including "realist" conservatives, seem to agree that President Bush's inaugural speech was radical, if not downright bizarre, in its insistence that the United States can and will deliver freedom to Earth's more than 6 billion human residents. "If Bush means it literally, then it means we have an extremist in the White House," said Dimitri Simes, president of the Nixon Center.

What critics here and abroad are glossing over, however, is that as a political marketing device, Bush's address was absolutely brilliant. It takes a true demagogue to remorselessly cheapen the lovely word "freedom" by deploying it 27 times in a 21-minute speech, while never admitting that its real-life creation is more complicated than cranking out a batch of Pepsi-Cola and selling it to the natives with a catchy "Feeling Free!" jingle.

In Bush's neocon lexicon, the fight for freedom has been transmogrified from a noble, but complex and often elusive, historical struggle for human emancipation into a simplistic slogan draped over the stark contradictions and tragic failures of this administration's foreign policy.......

......

...... The fact is, however, that when totalitarian nations like China and Saudi Arabia play ball with U.S. business interests, we like them just fine. But when Venezuela's freely elected president threatens powerful corporate interests, the Bush administration treats him as an enemy.......

........

...... Many questions remain. Because Bush said we would stand against all bullies, for example, it would follow that we should actively support the rebels in Chechnya against Bush's friend, autocrat Vladimir V. Putin. Before we do, however, we might want to recall the last time the United States overtly aided a rebellion in the Muslim world: the "freedom fighters" of Afghanistan, which included Osama bin Laden and other Islamic fanatics.........

The whole article is here: TheFreePress

Well worth a read.
posted by summersun70 at 6:05 PM

0 comments







Sunday, March 19, 2006


It Could Easily Happen Here .....



Chinese jaywalkers beware, your boss might punish you



BEIJING (AFP) - Jaywalkers in China beware. Crossing the street against the lights could lead to punishments at work, including being deliberately overlooked for a promotion and a loss of salary bonuses.

A draft traffic regulation in the eastern city of Nanjing, Jiangsu province, proposes that people repeatedly caught jaywalking or riding bikes through red traffic lights be reported to their employers, state media said Friday.

"Under the new rules, work promotions and bonuses could be denied for employees who are repeatedly reported for jaywalking," the China Daily reported.

China's law on road safety states that every work unit or company has the responsibility to educate their staff on traffic regulations, an official at Nanjing's traffic administration bureau told the paper.

"We are seeking cooperation with each (work) unit for a more efficient way of combating jaywalking," the official surnamed Zhang said........

The rest of this article is here: YahooNews

Now that's something Tony Blair hasn't thought of yet ......
.... but give him time ......
posted by summersun70 at 11:13 PM

1 comments








The only possible outcome

Iraq in civil war, says former PM

From: msn-newsbox

LONDON (Reuters) - Iraq is in a state of civil war and is nearing the point of no return when the country's sectarian violence will spill over throughout the Middle East, former Iraqi Prime Minister Iyad Allawi said on Sunday.

Three years after the U.S.-led invasion to oust Saddam Hussein, Iraq is in turmoil with a raging insurgency and a surge in sectarian bloodletting between Sunni Arabs and majority Shi'ite Muslims.

"It is unfortunate that we are in civil war. We are losing each day as an average 50 to 60 people throughout the country, if not more. If this is not civil war, then God knows what civil war is," he told BBC television.

There are 133,000 U.S. troops and 8,000 British soldiers in Iraq trying to maintain security and train local security forces to keep a lid on the violence. Both countries reject claims Iraq has already slid into civil war.

"Iraq is in the middle of a crisis. Maybe we have not reached the point of no return yet. But we are moving towards this point. We are in a terrible civil conflict now," Allawi said.

He said that if Iraq were to crumble, sectarian violence would spread throughout the Middle East with Europe and the United States also feeling the impact.

My Comments:

This is awful. Sadly, it was to be expected from the moment the US-led forces went into Iraq.

In fact, one could argue that this was exactly what certain Western figures planned from the outset.

What a dreadful, totally wasteful loss of life all around.

And the tactics used to promote this outcome have been completely insupportable and totally immoral.
posted by summersun70 at 4:25 AM

1 comments







Saturday, March 18, 2006


Oh Dear!

Russia: Creationism Finds Support Among Young

MOSCOW, March 10, 2006 (RFE/RL) -- Maria, a schoolgirl from St. Petersburg, is demanding that the Russian Education Ministry rewrite biology textbooks to include the view of creationism -- the belief that God created the universe and all living beings as described in the Bible.

Teaching only the theory of evolution, she says, violates freedom of conscience and religious rights, and therefore runs counter to the constitution.......



My Comments:



First the West gave Russia Capitalism. Now this.

Is this what 'freedom and democracy' is all about?

Seems that in today's World it probably is ......
posted by summersun70 at 1:42 PM

0 comments








More 'disclosures' ......

British airports handled 73 CIA flights

Aircraft suspected of being used by the CIA for "extraordinary rendition" - the practice of sending detainees to camps, including Guantánamo Bay, where they were at risk of being tortured - passed through British airports on 73 occasions since 2001, the government disclosed yesterday. They included an aircraft which left the Afghan capital Kabul and landed in Edinburgh in November 2002 before continuing its journey to Washington.

The aircraft, registered N85VM, landed at Guantánamo Bay on a number of occasions in 2002 and 2003, sometimes via the Turks and Caicos islands in the Caribbean, a British overseas territory, according to flight records seen by the Guardian.

Aircraft suspected of being used by the CIA for "extraordinary rendition" - the practice of sending detainees to camps, including Guantánamo Bay, where they were at risk of being tortured - passed through British airports on 73 occasions since 2001, the government disclosed yesterday. They included an aircraft which left the Afghan capital Kabul and landed in Edinburgh in November 2002 before continuing its journey to Washington.

The aircraft, registered N85VM, landed at Guantánamo Bay on a number of occasions in 2002 and 2003, sometimes via the Turks and Caicos islands in the Caribbean, a British overseas territory, according to flight records seen by the Guardian.

New details of aircraft known to be used by the CIA were disclosed by Alistair Darling, the transport secretary, in answer to a parliamentary question from Michael Moore, Liberal Democrat foreign affairs spokesman. Some of the aircrafts landed here on their way to the Middle East.

Mr Darling said none of the information held by his officials "provides evidence that these flights were involved in rendition". He said that Britain had made clear to the US, "including in recent months", that the government expected it to seek permission before rendering detainees via British territory and airspace.

Mr Moore said last night that the disclosures raised serious questions about the number and purpose of CIA flights through the UK. He added: "A fundamental question remains unanswered: has the UK government actually asked the US how many individuals have been rendered through Britain? If this hasn't been asked, then why on earth not?"

Why indeed .......
posted by summersun70 at 1:00 PM

0 comments







Thursday, March 16, 2006


The Playground

A close friend of mine lives on a council estate in one of the many poorer parts of the city.

Within this sprawling concrete jungle there is a children's playground.

Unlike some areas, the playground here has never, to my knowledge, been vandalised. The parents have cleared up sweet wrappers and coke cans after their children and the children themselves have seemed to appreciate having somewhere nice to play. The playground was small and only just adequately equipped, but the people of the community kept it nice and it remained, for years, a friendly, welcoming place to bring children.

At least it was, until recently.

First, council workers turned up one day and erected a high fence all around the playground. They also put a padlock on the gate. The playground was locked and unlocked by a council worker, at times according to his whims, and access to the playground became extremely limited.

Some of the parents asked the council why they had done this.

The council replied, "to cut down on vandalism".

The parents argued that there had been no vandalism and that they, as a community, could ensure that this would be the case in the future.

The council's response? They installed a 'card entry' lock on the playground gate and told the tenants that, if they wanted their children to use the playground, they would have to buy a pass, with the entry code on it, as well as their ID, "to prove that they lived in the area". The pass would cost £5, which would go towards "the upkeep of this facility".

The parents were, quite rightly, outraged. Not only had the council ignored their case that they themselves could manage the playground, but they were now to be charged for entering a place that they themselves had always maintained. There was also the thorny issue of ID, which the parents saw as a slap in the face for their integrity as responsible members of the community, and many of them thought that this demonstrated the council's views that their tenants could not be trusted to do anything without being monitored.

So this was really a ridiculous case of 'Big Brother' getting out of hand and the tenants being charged for the whole fiasco.

Many parents, including my friend, refused to purchase the 'pass'. The playground became little used and tenants who had previously kept an eye on the playground lost interest.

Within a few weeks youths from another area climbed the fence and vandalised the playground. It now stands in ruins: the 'safety' tarmac has been pockmarked; the swings have no seats; the roundabout is broken; and the slide is covered in dog excrement.

This was just one small playground, but its fate tells a story typical of life today in urban Britain – grim, ugly, and totally frustrating.

A sad tale, but true.




posted by summersun70 at 12:31 PM

0 comments







Tuesday, March 14, 2006


The walls of Jericho

What happened today in Jericho cannot be justified.

And if any Britons believed Jack Straw as he said in Parliament today: "We did not tell the Israelis that we were going to pull our troops out [of the prison holding Palestinian militants]", then they are gullible (or blinded by hypocrisy) beyond belief.

Ordinary British citizens do not condone the continual subterfuge which our Government is carrying out on behalf of those behind the Bush regime, and neither do they deserve the backlash which will probably be the result.

But why should Palestinians believe this, when it must appear to them that support from the West has completely deserted them?
posted by summersun70 at 2:40 PM

0 comments








No 'flexibility' here

There is an advert doing the rounds of the bus shelters in our area. It says "The World's not so rigid anymore" and it shows an androgenous mobile phone user stood on a balcony facing an horizon full of 'bendy buildings', curving away to allow more space for the mobile user's vision (at least, I suppose this is what the advertisers want us to 'see').

The advert is for 'a more flexible' mobile phone network.

As far as getting the message across that this particular mobile phone network is 'less rigid' in its charges and communication systems than others, it works quite well.

But as a metaphor for the World as it is today, it sorely misses the point.

We are losing more and more 'flexibility' every day. We are constantly bombarded with new rules and regulations, mainly telling us what

not

to do. We are spied upon 'legally' and illegally by our own Governments (

and they want us to know that we are being watched - make no mistake

).

Our options in life are becoming more fixed day by day. "From the cradle to the grave" used to be a saying to describe hopes for the way the National Health System would make like better for citizens of the UK, but now that term seems to be more in line with our path in life under present regimes - guided, cajoled and forced along the way

chosen for us

.

The World's not so rigid anymore?

They've got to be joking.
posted by summersun70 at 3:19 AM

0 comments







Sunday, March 12, 2006


The True 'Reality'

From the article: Externalizing the Cost of War :

"It must seem odd to the world that while our nation is coming apart at the seams, and every last shred of decency is being severed from the cloth of conscience, all we can do is watch American Idol and Survivor. According to author Mike Green (The Whole Truth about the U.S. War on Terror), there are one hundred and ninety-two recognized nations on earth, and the U.S. has troops stationed in one hundred and thirty-five of them. In total, we have in excess of four hundred thousand troops occupying a substantial majority of the world. The nation with the second largest number of troops deployed is Great Britain with thirty-five thousand, followed by France with twenty-three thousand. Apparently, bringing democracy to the world requires an extensive presence and lots of weapons. If only that were what this is about. It is really about hegemony, domination, global empire.

Perhaps America's insatiable demand for entertainment is in fact a form of self medication whose delivery mechanism is television, rather than the hypodermic needle. Mind-numbing, irrelevant, sensory-depriving entertainment is a method to kill the pain of a truth that laves ceaselessly upon the shores of our eroded conscience—a truth so painful that we must suppress it at all cost...."

The writer,

Charles Sullivan

, goes on to talk of Reality Television, saying:

"Reality television does many things. But one thing I am quite certain that it does not do is portray reality. Cheap and shallow entertainment only dulls the senses, like imbibing alcohol in excess to keep us comfortably numb, safely insulated from the reality that our nation is foisting upon the world. For many of the world's people, America has reduced their reality to piles of broken rubble; lonely hours of endless terror called Shock and Awe.... The cries of anguish can barely be heard above the din of our own personal struggles in a society that values profits above people. Better turn up the volume on the television to drown out the screams of The New World Order's democracy. We wouldn't want to feel uncomfortable about what the president is doing in our name...."

He speaks to citizens of the US, but his words bear relevance to those of us in the UK also, I'm sorry to say.

When are we going to wake up?
posted by summersun70 at 7:17 PM

0 comments



About Me
Name:
summersun70
Location:
United Kingdom
View My Profile
Previous Posts
We have moved!
Guardian Unlimited _ UK Latest _ Minister forced i...
The Sacred Moment: ON TORTURE
Have we become desensitized to the horrors of tort...
Amazing Amnesty International Ad Campaign
No Surprises...
David Cameron - 'man of the people' - well .... ma...
Blair begins covering his tracks .... again ....
Quotation Day!
Another Fine Mess?
Archives
September 2005
October 2005
November 2005
December 2005
January 2006
February 2006
March 2006
April 2006
May 2006
June 2006
October 2006
Links to Other Sites
Blogger


Subscribe via Email



Powered by Yutter


Join the Blue Ribbon Online Free Speech Campaign!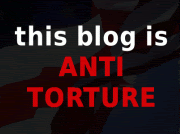 Join Us!
Join Us!


BlinkBits
BlinkList
Blogmarks
del.icio.us
Digg it
feedmelinks
Furl
Linkroll
ma.gnolia
Netvouz
Onlywire
RawSugar
reddit
Shadows
Simpy
Spurl
Yahoo MyWeb