Thursday, March 30, 2006


30 days to go ........

World powers warn Iran

BERLIN (Reuters) - The world's big powers told Iran on Thursday it must heed a U.N. order to curb its nuclear programme or face isolation, but Tehran refused to budge.

Britain said Iran could eventually face U.N. sanctions if it failed to suspend uranium enrichment, a process which can produce fuel for nuclear power stations or for bombs.

Iran, which says it wants only civilian nuclear power, rejected a U.N. Security Council presidential statement adopted on Wednesday that called for an enrichment freeze and a report from the U.N. nuclear watchdog on Iranian compliance in 30 days.

"Iran must decide between a self-imposed isolation through its continuation of enrichment ...or a return to the negotiating table," German Foreign Minister Frank-Walter Steinmeier said.

"We all hope Iran will take the opportunity to opt for a restart of negotiations," he told reporters after a meeting in Berlin of the council's five permanent members and Germany.

Steinmeier added that the international community still aimed to find a diplomatic solution to the stand-off.

British Foreign Secretary Jack Straw said the top world body might pass a legally binding resolution if Iran did not comply with the non-binding presidential statement, opening the way to future measures against the Islamic Republic.

Asked if such action could include sanctions, Straw told reporters: "It could do.

But he also said Iran could gain unspecified benefits if it backed down. "If they bring themselves into compliance then all sorts of good things, not bad things, will follow.......

...... Russia and China firmly oppose any sanctions, let alone force, against Tehran and insisted on removing language in the U.N. statement that they feared could lead down that path.

Iran said its decision to pursue enrichment was irreversible and suggested the West was manipulating the Security Council.......

...... Oil climbed further above $66 a barrel towards its $70 record after Iran rejected the U.N. admonition.

"There's got to be a crunch point over Iran," said oil analyst Geoff Pyne. "At the end of the day Iran is intent on uranium enrichment and the West won't allow it.......

...... U.S. Secretary of State Condoleezza Rice told reporters en route to Berlin that the world must keep up pressure on Iran to suspend enrichment and return to negotiations.

She urged the other permanent council members and Germany to take into account Iran's calls for Israel to be "wiped off the map", as well as its support for Syria and Hizbollah in Lebanon......

The whole article can be found at: MSN-newsbox



My Comments:



Let's face it, if Rice has her way 'diplomatic negotiations' will simply be about what suits the US-led West.

And, ridiculous (and terrifying) as it seems, the Bush regime is out for a new 'conquest'. It doesn't seem to have weighed up the odds of 'success' (which are almost non-existent); it doesn't seem to care. It certainly doesn't seem to have any morals about the issue that it wishes to consider.

And it seems that all we can do is sit back and wait for the inevitable war to happen. It doesn't matter whether their propoganda persuades enough of us or not, they will go ahead anyway.

And

that

is the most terrifying thing about the whole situation.
posted by summersun70 at 10:24 AM

0 Comments:
About Me
Name:
summersun70
Location:
United Kingdom
View My Profile
Previous Posts
Testing
Life - but only at the right price?
Why So Long?
Global Warming - the issues behind catastrophe
A man who cares
The Freethought Philosophy
Iran - What are the Real Issues?
More on Jericho
Marketing 'Freedom'
It Could Easily Happen Here .....
Archives
September 2005
October 2005
November 2005
December 2005
January 2006
February 2006
March 2006
April 2006
May 2006
June 2006
October 2006
Links to Other Sites
Blogger


Subscribe via Email



Powered by Yutter


Join the Blue Ribbon Online Free Speech Campaign!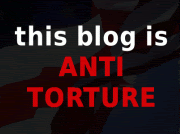 Join Us!
Join Us!


BlinkBits
BlinkList
Blogmarks
del.icio.us
Digg it
feedmelinks
Furl
Linkroll
ma.gnolia
Netvouz
Onlywire
RawSugar
reddit
Shadows
Simpy
Spurl
Yahoo MyWeb