Saturday, March 25, 2006


A man who cares



Kember returns home



By Jeremy Lovell

LONDON (Reuters) - Freed Christian peace campaigner Norman Kember flew home on Saturday following his rescue by special forces soldiers after being held hostage in Iraq for four months.

Kember, 74, a retired professor of medical ethics, arrived at London's Heathrow Airport at 1225 GMT on a scheduled British Airways flight from Kuwait, where he had been flown in a British military transport plane from Baghdad on Friday afternoon.

Looking tired and frail, but speaking in a firm voice, he thanked the soldiers who had rescued him and two Canadian colleagues from kidnappers on Thursday.

"I do not believe that a lasting peace is achieved by armed force, but I pay tribute to their courage and thank those who played a part in my release," he said in a prepared statement shortly after arrival.

British Army chief Michael Jackson had criticised Kember for apparently failing to thank the soldiers who freed him and his colleagues.

Sitting next to his wife Pat, 72, in an airport hospitality lounge, Kember said he was not ready to talk about his time in captivity.

He said the world should spare a thought for Iraqi citizens who had to live through the daily violence plaguing the country.

"There is a real sense in which you are interviewing the wrong person," he said.

"It is the ordinary people of Iraq that you should be talking to -- the people who have suffered so much over many years and still await the stable and just society that they deserve......."

The rest of this article can be found here: msnnewsbox-uk

A very apt comment from a man who cares about humanity.

It's a shame that our politicians do not have the same concerns.
posted by summersun70 at 1:42 PM

0 Comments:
About Me
Name:
summersun70
Location:
United Kingdom
View My Profile
Previous Posts
The Freethought Philosophy
Iran - What are the Real Issues?
More on Jericho
Marketing 'Freedom'
It Could Easily Happen Here .....
The only possible outcome
Oh Dear!
More 'disclosures' ......
The Playground
The walls of Jericho
Archives
September 2005
October 2005
November 2005
December 2005
January 2006
February 2006
March 2006
April 2006
May 2006
June 2006
October 2006
Links to Other Sites
Blogger


Subscribe via Email



Powered by Yutter


Join the Blue Ribbon Online Free Speech Campaign!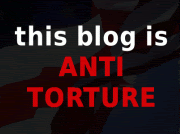 Join Us!
Join Us!


BlinkBits
BlinkList
Blogmarks
del.icio.us
Digg it
feedmelinks
Furl
Linkroll
ma.gnolia
Netvouz
Onlywire
RawSugar
reddit
Shadows
Simpy
Spurl
Yahoo MyWeb