Friday, March 31, 2006


MSN helps Brits exercise their democratic rights ...... yeah, sure ....

Prime Minister's Questions Moves Online With MSN Messenger

"Prime Minister Tony Blair and MSN Messenger have teamed up to take Prime Minister's Question Time online in a unique competition that will give ten members of the public the chance to put questions live to the PM.

The competition is now closed and on Tuesday 4th April, the winners will hold live video conversations over MSN Messenger with the Prime Minister at 10 Downing Street, the first time he has taken questions via live video over the internet.......

...... Following last summer's G8 Summit in Gleneagles questions were invited on two major issues, the issue of Africa, and the issue of climate change.

A Downing Street spokesperson said: "Our G8 Presidency last year made big strides, doubling aid for Africa, cancelling debts and agreeing new measures on peacekeeping, corruption HIV/ AIDS, health and education to benefit people in Africa. We also built the international consensus on the need to address climate change.

"The Prime Minister is committed to turning these promises into action in 2006, and wants to hear views from the public on these two vital issues."

"It's an honour for everyone at MSN to work with the Prime Minister on this unique competition. With one in six people in the UK using MSN Messenger, events like these will become commonplace as the internet plays an increasingly important role in political debate," said Chris Ward, Commercial Director, MSN UK......."



My Comments:



Just a cynical sigh really ......


This is true Democracy ..... isn't it? ...... After all, our PM and MSN are both known for their respect of freedom and democratic rights ...... Well .... aren't they ....?

Sigh ......


posted by summersun70 at 3:31 PM

1 Comments:
Sigh.
6:57 AM
About Me
Name:
summersun70
Location:
United Kingdom
View My Profile
Previous Posts
30 days to go ........
Testing
Life - but only at the right price?
Why So Long?
Global Warming - the issues behind catastrophe
A man who cares
The Freethought Philosophy
Iran - What are the Real Issues?
More on Jericho
Marketing 'Freedom'
Archives
September 2005
October 2005
November 2005
December 2005
January 2006
February 2006
March 2006
April 2006
May 2006
June 2006
October 2006
Links to Other Sites
Blogger


Subscribe via Email



Powered by Yutter


Join the Blue Ribbon Online Free Speech Campaign!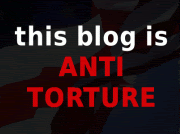 Join Us!
Join Us!


BlinkBits
BlinkList
Blogmarks
del.icio.us
Digg it
feedmelinks
Furl
Linkroll
ma.gnolia
Netvouz
Onlywire
RawSugar
reddit
Shadows
Simpy
Spurl
Yahoo MyWeb