Sunday, March 19, 2006


The only possible outcome

Iraq in civil war, says former PM

From: msn-newsbox

LONDON (Reuters) - Iraq is in a state of civil war and is nearing the point of no return when the country's sectarian violence will spill over throughout the Middle East, former Iraqi Prime Minister Iyad Allawi said on Sunday.

Three years after the U.S.-led invasion to oust Saddam Hussein, Iraq is in turmoil with a raging insurgency and a surge in sectarian bloodletting between Sunni Arabs and majority Shi'ite Muslims.

"It is unfortunate that we are in civil war. We are losing each day as an average 50 to 60 people throughout the country, if not more. If this is not civil war, then God knows what civil war is," he told BBC television.

There are 133,000 U.S. troops and 8,000 British soldiers in Iraq trying to maintain security and train local security forces to keep a lid on the violence. Both countries reject claims Iraq has already slid into civil war.

"Iraq is in the middle of a crisis. Maybe we have not reached the point of no return yet. But we are moving towards this point. We are in a terrible civil conflict now," Allawi said.

He said that if Iraq were to crumble, sectarian violence would spread throughout the Middle East with Europe and the United States also feeling the impact.

My Comments:

This is awful. Sadly, it was to be expected from the moment the US-led forces went into Iraq.

In fact, one could argue that this was exactly what certain Western figures planned from the outset.

What a dreadful, totally wasteful loss of life all around.

And the tactics used to promote this outcome have been completely insupportable and totally immoral.
posted by summersun70 at 4:25 AM

1 Comments:
I'd argue that this wouldn't have happened had
a: the US finished operations in Afghanistan first.
b: Donald Rumsfeld had actually sent the number of troops requested by US generals before the war started instead of 25% of what they requested.
c: We'd actually been paying the Iraqi's to rebuild Iraq.
11:31 AM
About Me
Name:
summersun70
Location:
United Kingdom
View My Profile
Previous Posts
Oh Dear!
More 'disclosures' ......
The Playground
The walls of Jericho
No 'flexibility' here
The True 'Reality'
Fundamentalism - the World View
This puts religious intolerance into perspective
An interesting comparison
Bird Flu News with a difference
Archives
September 2005
October 2005
November 2005
December 2005
January 2006
February 2006
March 2006
April 2006
May 2006
June 2006
October 2006
Links to Other Sites
Blogger


Subscribe via Email



Powered by Yutter


Join the Blue Ribbon Online Free Speech Campaign!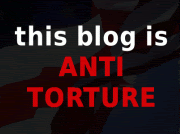 Join Us!
Join Us!


BlinkBits
BlinkList
Blogmarks
del.icio.us
Digg it
feedmelinks
Furl
Linkroll
ma.gnolia
Netvouz
Onlywire
RawSugar
reddit
Shadows
Simpy
Spurl
Yahoo MyWeb