Sunday, March 12, 2006


The True 'Reality'

From the article: Externalizing the Cost of War :

"It must seem odd to the world that while our nation is coming apart at the seams, and every last shred of decency is being severed from the cloth of conscience, all we can do is watch American Idol and Survivor. According to author Mike Green (The Whole Truth about the U.S. War on Terror), there are one hundred and ninety-two recognized nations on earth, and the U.S. has troops stationed in one hundred and thirty-five of them. In total, we have in excess of four hundred thousand troops occupying a substantial majority of the world. The nation with the second largest number of troops deployed is Great Britain with thirty-five thousand, followed by France with twenty-three thousand. Apparently, bringing democracy to the world requires an extensive presence and lots of weapons. If only that were what this is about. It is really about hegemony, domination, global empire.

Perhaps America's insatiable demand for entertainment is in fact a form of self medication whose delivery mechanism is television, rather than the hypodermic needle. Mind-numbing, irrelevant, sensory-depriving entertainment is a method to kill the pain of a truth that laves ceaselessly upon the shores of our eroded conscience—a truth so painful that we must suppress it at all cost...."

The writer,

Charles Sullivan

, goes on to talk of Reality Television, saying:

"Reality television does many things. But one thing I am quite certain that it does not do is portray reality. Cheap and shallow entertainment only dulls the senses, like imbibing alcohol in excess to keep us comfortably numb, safely insulated from the reality that our nation is foisting upon the world. For many of the world's people, America has reduced their reality to piles of broken rubble; lonely hours of endless terror called Shock and Awe.... The cries of anguish can barely be heard above the din of our own personal struggles in a society that values profits above people. Better turn up the volume on the television to drown out the screams of The New World Order's democracy. We wouldn't want to feel uncomfortable about what the president is doing in our name...."

He speaks to citizens of the US, but his words bear relevance to those of us in the UK also, I'm sorry to say.

When are we going to wake up?
posted by summersun70 at 7:17 PM

0 Comments:
About Me
Name:
summersun70
Location:
United Kingdom
View My Profile
Previous Posts
Fundamentalism - the World View
This puts religious intolerance into perspective
An interesting comparison
Bird Flu News with a difference
Pioneers or hopeless cases?
Thoughts on Blair's 'Natural Successor'
Nice future?
Justice turned on its head
Invasion of Privacy???
Tracking Our Cash
Archives
September 2005
October 2005
November 2005
December 2005
January 2006
February 2006
March 2006
April 2006
May 2006
June 2006
October 2006
Links to Other Sites
Blogger


Subscribe via Email



Powered by Yutter


Join the Blue Ribbon Online Free Speech Campaign!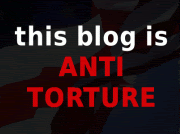 Join Us!
Join Us!


BlinkBits
BlinkList
Blogmarks
del.icio.us
Digg it
feedmelinks
Furl
Linkroll
ma.gnolia
Netvouz
Onlywire
RawSugar
reddit
Shadows
Simpy
Spurl
Yahoo MyWeb