Tuesday, March 14, 2006


The walls of Jericho

What happened today in Jericho cannot be justified.

And if any Britons believed Jack Straw as he said in Parliament today: "We did not tell the Israelis that we were going to pull our troops out [of the prison holding Palestinian militants]", then they are gullible (or blinded by hypocrisy) beyond belief.

Ordinary British citizens do not condone the continual subterfuge which our Government is carrying out on behalf of those behind the Bush regime, and neither do they deserve the backlash which will probably be the result.

But why should Palestinians believe this, when it must appear to them that support from the West has completely deserted them?
posted by summersun70 at 2:40 PM

0 Comments:
About Me
Name:
summersun70
Location:
United Kingdom
View My Profile
Previous Posts
No 'flexibility' here
The True 'Reality'
Fundamentalism - the World View
This puts religious intolerance into perspective
An interesting comparison
Bird Flu News with a difference
Pioneers or hopeless cases?
Thoughts on Blair's 'Natural Successor'
Nice future?
Justice turned on its head
Archives
September 2005
October 2005
November 2005
December 2005
January 2006
February 2006
March 2006
April 2006
May 2006
June 2006
October 2006
Links to Other Sites
Blogger


Subscribe via Email



Powered by Yutter


Join the Blue Ribbon Online Free Speech Campaign!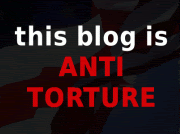 Join Us!
Join Us!


BlinkBits
BlinkList
Blogmarks
del.icio.us
Digg it
feedmelinks
Furl
Linkroll
ma.gnolia
Netvouz
Onlywire
RawSugar
reddit
Shadows
Simpy
Spurl
Yahoo MyWeb