Wednesday, May 17, 2006


Wired News Publishes Damning Docs From EFF vs AT&T

Wired News has published documents from EFF's lawsuit against AT&T for the company's role in helping the NSA perform indiscriminate, illegal warrantless wiretaps against millions of American citizens. AT&T has asked a court to take these documents out of the public record and suppress their publication -- so grab your copy now while you can.

Update: The judge has rejected AT&T's motion to remove the documents from the public record.
But they are certainly still worth reading

read more | digg story
posted by summersun70 at 5:56 PM

0 Comments:
About Me
Name:
summersun70
Location:
United Kingdom
View My Profile
Previous Posts
Do we really need classes on 'Core British Values'...
Laura needs to get out more.....
The Care Crisis
Chuck Pennacchio Tells it like it is
Yes, sure is weird ......
These People are Dangerous
Colbert Roasts Bush - the video
Oh for Heavens Sake!
Good News on Herceptin
Assault on the 'free' Web
Archives
September 2005
October 2005
November 2005
December 2005
January 2006
February 2006
March 2006
April 2006
May 2006
June 2006
October 2006
Links to Other Sites
Blogger


Subscribe via Email



Powered by Yutter


Join the Blue Ribbon Online Free Speech Campaign!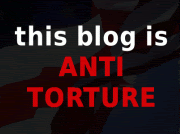 Join Us!
Join Us!


BlinkBits
BlinkList
Blogmarks
del.icio.us
Digg it
feedmelinks
Furl
Linkroll
ma.gnolia
Netvouz
Onlywire
RawSugar
reddit
Shadows
Simpy
Spurl
Yahoo MyWeb