Monday, May 08, 2006


Yes, sure is weird ......

Iran's Weird. Pretty, but Weird. - Wonkette: "Iran's Weird. Pretty, but Weird."

From Wonkette: "Ok, terrifying Iran nuclear apocalypse no-turning-back everything's-fucked article, same old same old (boy, we cared about this a lot more back before the SHAKE-UP, which has haunted all of our waking hours), but before we send the Air Force over to topple their government, we should ask ourselves, what the hell is going on in this picture???"

Take a look......



Tags:


posted by summersun70 at 12:08 PM

1 Comments:
Sometimes I wish I could sleep until New Year's 2009. New President, new regime, and maybe some hope. Hope you are well.
9:22 PM
About Me
Name:
summersun70
Location:
United Kingdom
View My Profile
Previous Posts
These People are Dangerous
Colbert Roasts Bush - the video
Oh for Heavens Sake!
Good News on Herceptin
Assault on the 'free' Web
Remembering Chernobyl
Please Don't Attack Iran
Poster
Good News
On a lighter note ......
Archives
September 2005
October 2005
November 2005
December 2005
January 2006
February 2006
March 2006
April 2006
May 2006
June 2006
October 2006
Links to Other Sites
Blogger


Subscribe via Email



Powered by Yutter


Join the Blue Ribbon Online Free Speech Campaign!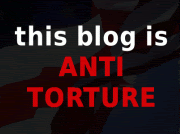 Join Us!
Join Us!


BlinkBits
BlinkList
Blogmarks
del.icio.us
Digg it
feedmelinks
Furl
Linkroll
ma.gnolia
Netvouz
Onlywire
RawSugar
reddit
Shadows
Simpy
Spurl
Yahoo MyWeb