Tuesday, June 06, 2006


Blair begins covering his tracks .... again ....

Blair defends police terror raid

Prime Minister Tony Blair says he is not afraid of a Muslim "backlash" in the wake of an anti-terror raid on a house in Forest Gate, east London.

He said he backed the police and security services 101% and he refused to be drawn on suggestions that the armed operation had been a failure....

.... Mr Blair said it was essential the police took action if they received "reasonable" intelligence suggesting a terror attack.

But asked if he feared a Muslim backlash following the raid, Mr Blair said: "I'm really not.

"I think it's a real mistake to think that the average person from the Muslim community is any different from anyone else.

"They know perfectly well there is a problem with terrorism." ....

.... But he refused to comment on suggestions that the raid had been a failure.

"I think we should be very, very wary of drawing conclusions," he said.

"Let's just wait and see. There may be a whole series of things they need to look into in relation to that." ....

--------

I'm sure there will be ....



Tags:


posted by summersun70 at 1:01 PM

3 Comments:
I so look forward to a post Bush and Blair world.
4:22 PM
You know the main cause of "terrorism"?
We fully complied to be a target.
You fail to be a target once you decide to be a victim no more.
I could elaborate, but leave it at that for now.
7:29 PM
I could elaborate, but leave it at that for now.

On your blog, perhaps? :)
6:52 AM
About Me
Name:
summersun70
Location:
United Kingdom
View My Profile
Previous Posts
Quotation Day!
Another Fine Mess?
Female Circumcision Can Never Be Right!
Purity, Bigotry and Misogyny
Be Sure to Cancel Your Credit Cards Before You Die...
The World is so much bigger than me .....
A Leak Too Far ......
Are we being deliberately pointed in the wrong dir...
New Enquiry begins into the death of Dr David Kell...
A case of mistaken identity.
Archives
September 2005
October 2005
November 2005
December 2005
January 2006
February 2006
March 2006
April 2006
May 2006
June 2006
October 2006
Links to Other Sites
Blogger


Subscribe via Email



Powered by Yutter


Join the Blue Ribbon Online Free Speech Campaign!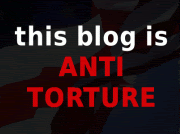 Join Us!
Join Us!


BlinkBits
BlinkList
Blogmarks
del.icio.us
Digg it
feedmelinks
Furl
Linkroll
ma.gnolia
Netvouz
Onlywire
RawSugar
reddit
Shadows
Simpy
Spurl
Yahoo MyWeb