Saturday, June 10, 2006


No Surprises...

Chemical bomb raid men released


LONDON (Reuters) - Police have freed without charge two men arrested during a raid on a London house that police suspected of being used for making a chemical bomb......

...... Police found no bomb in a search of the house in the ethnically mixed area of Forest Gate in east London.

The men, aged 20 and 23 and reported to be brothers, were released on Friday evening. Police had a warrant allowing them to question them until Saturday.

Lawyers for the men have said they deny any involvement in terrorism.

"The intelligence received by police continues to be developed and the Metropolitan Police will continue to exhaust all lines of inquiry," a police statement said.

Police thanked local residents for their "tolerance and understanding" during the operation......

...... London police Assistant Commissioner Andy Hayman apologised for the disruption caused by the raid on Thursday but said the police had "no choice" but to act on "very specific intelligence".

The whole article is here: newsbox.msn

My Comments

Thank goodness the police and intelligence services have done the correct thing (well ... after doing a very incorrect thing in the first place ...).

And as to their "specific intelligence", one could argue, "specific to whom?"

This whole charade has deepened resentment in Muslim communities and this is totally understandable.

It has left many of us in the UK even more sceptical of the stated intentions of the police and intelligence services.

It has also made us even more aware that 'if your face doesn't fit' (for whatever reason; be it race, ethnicity, culture, or political affiliations), you had better be on your guard.

The battering down of your door by heavy-handed, gun-wielding 'terrorist seekers' could happen to you next.



Tags:


posted by summersun70 at 5:36 AM

0 Comments:
About Me
Name:
summersun70
Location:
United Kingdom
View My Profile
Previous Posts
David Cameron - 'man of the people' - well .... ma...
Blair begins covering his tracks .... again ....
Quotation Day!
Another Fine Mess?
Female Circumcision Can Never Be Right!
Purity, Bigotry and Misogyny
Be Sure to Cancel Your Credit Cards Before You Die...
The World is so much bigger than me .....
A Leak Too Far ......
Are we being deliberately pointed in the wrong dir...
Archives
September 2005
October 2005
November 2005
December 2005
January 2006
February 2006
March 2006
April 2006
May 2006
June 2006
October 2006
Links to Other Sites
Blogger


Subscribe via Email



Powered by Yutter


Join the Blue Ribbon Online Free Speech Campaign!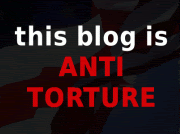 Join Us!
Join Us!


BlinkBits
BlinkList
Blogmarks
del.icio.us
Digg it
feedmelinks
Furl
Linkroll
ma.gnolia
Netvouz
Onlywire
RawSugar
reddit
Shadows
Simpy
Spurl
Yahoo MyWeb